Click this text to start editing. This block is a basic combination of a title and a paragraph. Use it to welcome visitors to your website, or explain a product or service without using an image. Try keeping the paragraph short and breaking off the text-only areas of your page to keep your website interesting to visitors.
Morgan - 10 yrs old
Morgan is the only child of a single mom. He was born with a club foot and Mom was told that physical therapy would help. However in spite of ongoing therapy he did not heal. Due to financial difficulty Mom had to stop the therapy and therefore was excited when OLCC got involved.
Naida and Leah met with Morgan and his Mom to discuss going to Kijabe Hospital to investigate what was needed. Upon seeing the docotr it was determined that he needed surgery to correct the club foot as well as a special shoe.
In February 2019, while Naida was in Kenya, Morgan was able to have his surgery. As she was there at the time Naida was able to go with him to the hospital and even be there to help bring him home. The surgery went well however he will likely need further physio therapy.
Cost $1186 CDN
After 10 years of suffering and the strain of coping on his poor Mom, we are happy to report that they are rejoicing with his newfound health. Morgan has a new outlook on life and says he even wants to be a pilot!
He drew the above picture as a thank you to the OLCC donors and board.
David K - 14 yrs old
David has quite the story. One day Naida was traveling along a dirt road in Kenya, right near a school. She saw this boy walking strangely and said to John, our Kenyan affiliate who was driving, "look at that boy." He immediately stopped the car and called the boy over. He found out his name was David. They talked with him a bit and then said their goodbyes. John said to Naida, "Winnie is a teacher at this school, we can find out about this child". Winnie knew the child and said that he was a very needy case and promptly sent up a time for us to meet the mother and son.
When they met, the Mom told her family story. During the 2007 election the family was chased from their home, they spent 8 years living in a tented compound with little support and have just recently moved to a rented place in this area. David is 14, in grade 7 at the top of his class. He is a very hardworking boy despite the challenges he is facing. Apparently he was fine until 6 years of age. There never was a medical diagnosis done due to lack of funds. He is now walking on toes on his right leg. His leg is growing weaker every single day and even his right arm is now affected.
The surgery which involves releasing the tendons in his right leg will cost about $2500 CDN.
His parents who have nothing and just manage to survive by mom selling socks in the market and dad sharpening knives. Dad was involved in a car accident and is now unable to work, making mom the sole provider.
A big supporter of Our Little Charity Canada passed away recently and as a tribute to her, the family has decided to ask people to give a charity donation instead of flowers. To date, $2600 has been received for David's surgery.
David received his surgery on January 16, 2018. He is now recuperating at home. He will require some physio in the future.
He says a big thank you to everyone. His family is so grateful.
Stella Recently graduated from High School. She had a cornea replacement in 2013 in her right eye. Her family did a fundraiser to cover this cost.
Then her left eye needed a cornea and the family was totally unable to pay for this upcoming surgery. For 3 years her eyes had been getting progressively worse. She has become asthmatic.
For Christmas 2016 , Stella was our feature girl and we were able to raise the $3500 for her surgery. Money was sent to Kenya for the surgery and then due to the strikes her surgery was postponed.
Fast forward to January 2018.
Here is the report on Stella from John our Kenyan partner.
"God is doing amazing things in our midst. The joy that is with Stella and her mother today is overflowing. As you know Stella was put under medication in preparation for the secondary surgery. I had talked to Dr. Nyaga on Monday Jan 8th, he is the surgeon that did her other eye a few years ago. Dr. Nyaga explained to me how the process will be. It will take 2 weeks to import cornea and then probably another week to schedule surgery. We agreed once he sees Stella on Wed. Jan 10th he will let me know immediately so as not to delay surgery. After examining Stella's eye he was shocked how much the eye had improved and said he is not touching her eye. Mama Stella explains to be how Stella burst forth with tears of joy. Dr. Nyaga asked "Did you people go praying for this? this can only be a miracle." Stella is rejoicing the divine restoration of her eye. So as it stands we are seeing another child restored miraculously. We continue to pray that God brings total restoration. I am rejoicing with the family. The Doctor has also given her a green light to join college as she can now see. Praise the Lord!"
Godfrey – 3 yrs old
Godfrey was born without an anus hold and was living with a temporary bag to gather waste. This causes frequent sanitation diseases. He was very malnourished because of the condition weighing only 20 lbs. Sadly, his Father left unable to deal with his son's medical condition leaving his Mother all alone to care for Godfrey. She has very little support as the community avoids them due to the smell that results from his condition. A medical intervention at this point is urgent before his condition worsens or the social stigma leaves him and his mother as outcasts for life.
An MRI was performed, then surgery followed to create an anal opening. A second surgery was required to close the side hole. The cost altogether was $4000 CDN
Godfrey is now a happy, healthy little boy who is now able to attend school & fit in with other children his age. His Mother (a single mom) is so grateful to OLCC and our donors for providing these necessary and life changing surgeries for her son. She is now able to provide for her family and see a happy, normal future for Godfrey.
Peter – 10 yrs old
Peter is one of 4 children living in a small 2 roomed mud hut. He has an eye condition that requires a Cornea Transplant. The parents, both laborers, have been unable to raise the funds to pay for his surgery as they are barely able to provide the necessities for their family already. Peter's condition makes him highly sensitive to light and therefore remains closed much of the time. He strains to read and is losing his ability to keep up with his schoolwork. The sooner he receives surgery he can get back on track at school and with his peers.
OLCC was able to provide the $2300 CDN for his Cornea transplant.
Peter is now able to see, work on his school work and have a restored beautiful view of the world around him. Both Peter and his family are so grateful for the help afforded him from Our Little Charity Canada donors.
David – 6 yrs old
David is a young boy who was injured in a buggy accident. As a result he has undescended testicles that require surgery to restore them to normal function. His parents fear without surgery he may be a social outcast later in life as he could be impotent and unable to have a family of his own. His family has suffered greatly as along with dealing with this crisis, they also suffered the loss of David's infant twin boys. The financial burden from the loss of the twins after a lengthy hospital stay has left them unable to pay for David's surgery. The loss of the twins has also deeply affected the emotional well being of both David, his sister and their parents. This family needs a miracle to bring back hope and joy to their lives!
Through our generous OLCC supporters David was able to receive his surgery. The total cost was $1200 CDN
David has had successful surgery and is now a healthy little boy. His parents are able to smile again as they have something to be happy about! They express their deepest gratitude to all who donated to help fund this surgery and give their little boy a brighter future.
Michael - 12 yrs old

Michael was normal at birth, but due to a schoolyard accident

where he was hit in the groin, he has been experiencing pain.

When mom took him to the hospital it was discovered that

his left testis was undescended due to the hit.
Cost of surgery $700 CDN.
Mom has managed to raise half of the funds and so we will provide

the rest.
Surgery took place April 20, 2016.
It was later discovered that the surgery had to be redone as there was still problems. The hospital provided the 2nd surgery free of charge.
Michael is now well and excelling in his schooling. He has a very bright future ahead of him.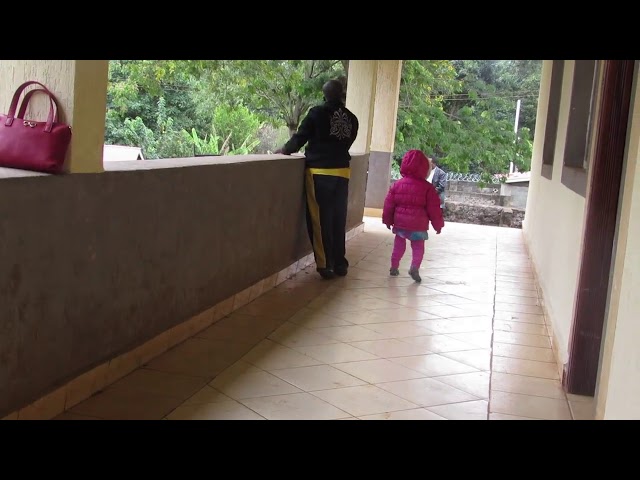 Ayana is the 3 yr old girl that could not walk. This video is of her walking and playing with a ball. This is a miracle! We were able to provide her with 5 months of physio therapy. The cost was so little....... but impossible for her single mom, Mary. Today she is a healthy happy child and her Mom & Naida (OLCC Chairperson) cried together. She said, "asante sana" (thank you) to those that have helped her little angel.
Lucy came to us in March 2016 complaining of a pain in her left side. Her dysfunctional family is unable to assist with finances and as a result Lucy has been suffering with this pain for three years. Aunt Winnie had lots of paper work, which we reviewed and the decision was made to take her to hospital for an updated report. John, Naida and her Aunt Winnie spent the whole day in the hospital, as Lucy went thru test after test. The diagnosis was that Lucy had a ovarian cyst and fluid in her uterus that needed to be attended to promptly.
A bed was made available and Lucy had her surgery in April 2016.

Cost $800 CDN
The surgery was a success and the pain was gone.
/